As the school begins, many students go to the store to buy new notebooks for the school purposes or tuition purposes. Buying fancy cover books is eye-appealing but you can't judge a book by its cover. What matters more is the quality of pages and its cost-worthy spend. There are various stationery brands flourishing in the industry since time immemorial, so which brand to go for is also an important point of consideration. 
Let us enlighten you about Sundaram as a brand. Sundaram is in the industry for over 38+ years and has has grown by many folds and diversified into various other verticals of business. With the strong brand and market penetration, we are present in pan Maharashtra and have a strong brand recall among consumers. The brand Sundaram stands for trust, quality products and for a legacy. As it is rightly said, "Education is the strongest weapon" we deliver quality products at the best rates to the entire country. Our books are manufactured in the manufacturing unit in Palgar which is Asia's largest paper manufacturing unit. With a wide range of over 200 products today, Sundaram sells more than 5 lakh books everyday through its strong distribution network of 15000 dealers and distributors. We design, manufacture and market paper stationery products – exercise note books, long books, note pads, scrap books, drawing books, graph books – for students of all ages, as well as office/ corporate stationery products and printing, writing & packaging paper.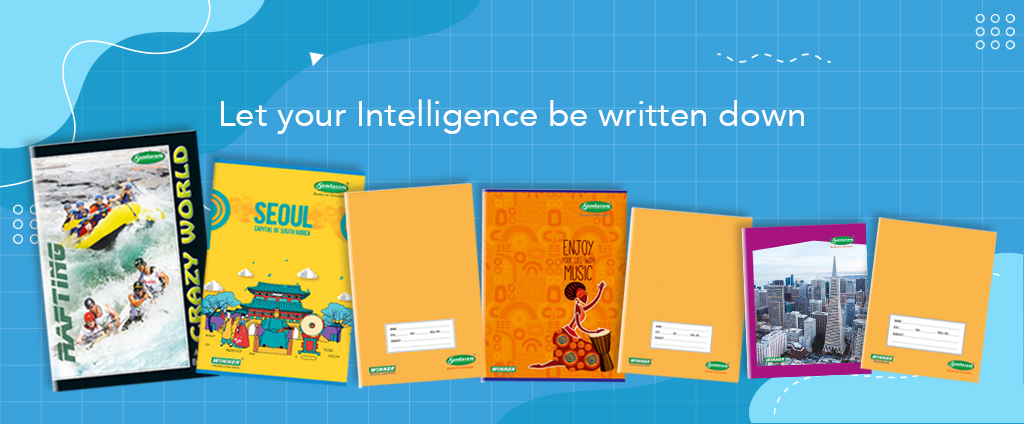 Type of Ruled Paper
There's always confusion about the notebook paper to select. The 'ruled lines' on paper are spaced in a way to suffice the purpose of the user. There 6 types f ruled paper available in the market for a notebook, you can choose for purposes like for school, a law or university thesis. In general, school teachers preferred wide ruled paper and college ruled paper notebooks which are provided by Sundaram. 
For elementary school students, knitting of lined paper is a favorite of kindergarten up to fourth graders. The rules are located 11/37 inches apart and are intended for children who are still learning to write letters and numbers and for children with above-average handwriting.
Middle, high school, and college students use medium or "student" paper at 9/32 inch spacing. A type of paper with lines that is close together so that more content can be written on one page. Older Children tend to have less pressure and do not need more space than younger children. However, teens and students prefer broadband paper for writing essays and reports. Check out the spacing in the product catalogue: https://sundaramstore.com/product-category/long-book/
Cost-effective 
The cost for all of your school notebooks can add up, so instead of paying a large amount for a single book, you may want to visit Sundaram's online store for buying in bulk. You can usually find every size notebook you need, from the very small to the large five subject notebooks. Instead of paying several rupees for each one, you can stock up and pay for the bulk for saving money because bulk buy will be cost-effective. Prices vary depending upon the number of pages and the master packs/unit. Check out the prices in the product catalogue: https://sundaramstore.com/product-category/long-book/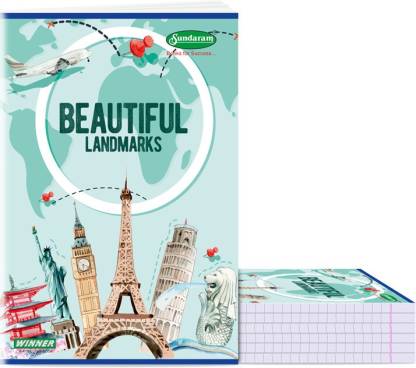 Book Size
For subjects like Math, physics or chemistry, you might need long books for the convenience of fitting longer equations on one page. Sundaram has books of sizes A3, A4 and A5 of pages 140 or 172. A4 size books can be used for rough work with a flexibility of fitting in any size of bag. Check out the different book sizes in the product catalogue: https://sundaramstore.com/product-category/long-book/
Paper Thickness  
Using high quality paper will make the biggest difference to your writing experience. Feather coated paper with filler paint can make text look unsightly and difficult to read. You don't want to write on paper so that it doesn't get stuck in a pen or paper. The best paper for fountain pens or gel pens is A4 or A5. The weight of the paper depends on its thickness. The better the thickness, the less it gets blotted. Sundaram offers papers with 120 gsm thickness that doesn't allow the ink to blot on the paper. 
Environmental-friendly Usage  
Did you know that notebook pages can be recycled? All notebooks are generally 100% consumer recyclable. For those who are supporting environmentally-friendly practices, you can buy a recycled notebook option. With this twist in recyclable products, you send the notebooks for recycling which can be reusable by you or others in need. Sundaram books are recyclable too!